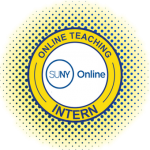 Internship Program
See also:
Meet the Current and Past Interns
Example Internship Projects
New Intern Orientation and Evaluation Criteria
Current Internships:
SUNY Online Teaching/SUNY Albany CDIT ID Internship Program
Media Intern
General Information
The SUNY Online Teaching Internship program's mission is to:
Provide SUNY students interested in various aspects of supporting online teaching and learning the opportunity to gain real world experience in our award winning online teaching and learning program.

Create a program that contributes to the development of a qualified entry-level workforce pool of online instructional designers, technologists, and faculty development and support professional staff for the online education pipeline.

Apply the Intern's and his/her skills as a resource to assist the SUNY Online Teaching team in projects and initiatives to improve our support and services to campuses, faculty, and the program.
The internship benefits the SUNY campus, SUNY Online, and the intern in several ways:
Benefits:
Benefit to Campus
Enhances attractiveness of academic program.
Increases the visibility of the academic program.
Helps the department maintain and grow enrollments.
Creates a pool of more competitive applicants to the program.
Keeps the program relevant in the face of changing professional/certification (e.g., teacher certification) requirements.
Benefit to Students:
Provides a bridge between theory and practice, creating a significant opportunity to apply what they have learned in their program.
Provides the opportunity to gain practical experience in the real world, including e.g., instructional design (ID), online course reviews, online faculty development/training, documentation creation, webinar facilitation, web content management, etc.
Results in experience that can assist students with their employability after graduation.
Benefit to SUNY Online:
Access to a resource for entry-level work, freeing professional staff for higher-level work and projects.
We assist in the development of a cadre of graduates ready for the entry-level workforce in ID positions SUNY wide and beyond.
Gives us the opportunity to offer entry-level supervision and program management experiences to internal staff.
Gives us the ability to enhance our services to campuses, by, for example, providing us with an additional resource that can support or create media, content, documentation, or participate in online course reviews.
Contact: For More Information.