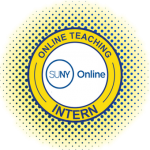 Meet the Interns
About the SUNY Online Teaching Internship Program
SUNY Online provides a unique experiential opportunity for students interested in online teaching and learning.
Those selected, that have successfully completed an internship with the SUNY Online Teaching unit, can demonstrate to potential future employers that they have some related experience in the support of online faculty in higher education, which is a common prerequisite for positions in the field.
SUNY Online Interns have positively and substantively contributed to the success of  SUNY Online  and SUNY Online Teaching initiatives/activities.
Learn more about their experiences from Current and Past SUNY Online Teaching Interns: