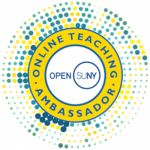 Nominate a SUNY Online Teaching Ambassador
SUNY Online Teaching recognizes outstanding SUNY online instructors as SUNY Online Teaching Ambassadors, and accepts nominations from each SUNY institution annually. The call for nominations will open in November.
Nomination by an individual's home campus is required (directors of online learning/online instructional designers, deans, department chairs). Nominees must be SUNY faculty/instructors, SUNY Online Fellows, and have current online teaching experience teaching. They must be considered, "Exemplary online SUNY educators, who are enthusiastic and effective in online teaching, and who can be positive and strong advocate for online teaching in our SUNY community."
SUNY Online Teaching Ambassadors are awarded a certificate of recognition and a digital badge in honor of this distinction, their profiles are featured on our website, and they are afforded opportunities to be online teaching advocates and to share their thoughts with the community in various ways throughout the year.
SUNY Online Teaching Ambassadors are encouraged to attend the SUNY Online Summit, an annual conference for online practitioners, where they will be formally recognized.
Nominees are required to submit a photo and short bio/description of their online teaching experiences and a testimonial for our website. They may be interviewed and/or videotaped about their online teaching experiences.
2023 Online Teaching Ambassadors
To learn more about this program: sunyonlinehelp@suny.edu.