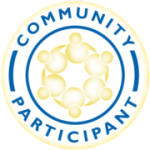 Community Participants
There are lots of opportunities to for community members to participate in SUNY Online Teaching Community activities.
Community Participant badges are available to acknowledge participation in community activities. Individuals who earn this badge contribute to the growth and diversity of the community of practice by participating in SUNY Online Teaching community activities and sponsored events.
Badge earners are SUNY Online community members who can demonstrate evidence of their participation and engagement in the community to:
Expand their understanding of online education.
Learn more about effective online teaching practices.
Connect/network within the SUNY Online Teaching Community of Practice.
Learn more about  SUNY Online.