Research and Innovation
SUNY has a large number of faculty and staff who are engaged in research and who contribute to the national/international body of scholarly work in formal peer-reviewed publications to further our understanding of teaching and learning online and in technology-mediated environments. In addition, there exists a strong community of exemplary online teaching faculty and practitioners who engage in online teaching and learning innovations, practices, or emerging technologies and who are recognized as innovators in online teaching and learning.
SUNY Online Teaching aims to support, connect, and guide research and emerging best practices in higher education in a coordinated and collaborative manner that capitalizes on data generated from multiple sources.
Innovative Instruction Research Council
The Innovative Instruction Research Council guides research efforts by monitoring current and emerging instructional support trends, fostering campus-based instructional innovations, and assisting the SUNY Office of Provost in coordinating incentives to explore multi-campus pilot projects and bring new innovations to scale. This Council will also work to ensure that research outcomes are properly disseminated both within SUNY and more broadly in service and support of all students, faculty, and staff.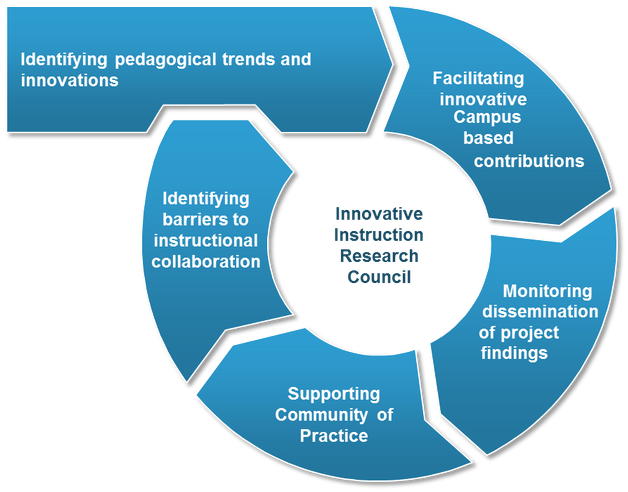 This council benefits all campuses by:
Identifying pedagogical trends and innovations:
Conducting a scan of the latest pedagogical trends and innovations happening within SUNY and across the globe, assessing their relevancy to SUNY to help guide a research & innovation agenda for SUNY.
Facilitating innovative campus-based contributions:
Enabling campus-based contributions through Innovative Instruction Technology Grants (IITG) and other related initiatives.
Monitoring dissemination of project findings:
Ensuring SUNY-wide dissemination of findings so that SUNY faculty and instructional staff benefit from the output of innovation, and identifying opportunities to scale up proof-of-concept projects in collaboration with the future SUNY Scale-UP Lab.
Supporting Communities of Practice:
Realizing opportunities to contribute to broader bodies of knowledge and support communities of practice through SUNY Online, SUNY Online Teaching, SUNY Workplace and other communication vehicles.
Identifying barriers to instructional collaboration:
Identifying and making recommendations to the Provost on removing barriers and incentivizing SUNY-wide collaboration on new and innovative teaching and learning practices.