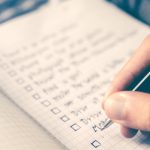 Checklist for Remote Teaching:
Synchronous Interaction
---
You may use synchronous interaction for live class meetings, office hours, small group work and for student presentations. You can also record synchronous interactions to provide recordings as an alternative for those who can't make the event, or to as a way to review the content.
Tips for Having a Good Synchronous Discussion
(If possible) Open the room 15-10 minutes early (and/or leave it open for a bit after the class): So students can chat with each other.
Share an agenda for the class discussion: To set expectations and plan the flow of the class discussion Be sure to clearly state when you move from one topic to another.
Use the Gallery view: To see thumbnails of your students and to get a sense of your whole class (zoom).
Ask for questions: Have students to use the Chat, or the Raise Hand features to ask their questions. Respond to questions submitted. Or, call on a student to ask them what they think, or to respond to a another student's question.
Calling on students: You can call on a student just like you might in your face to face classroom. You can send a student that you plan to call on a private message before you call on them so they can be prepared.
Use the Raise Hand/Chat Features:  To facilitate the management of your discussion. You can select from those that have raised their hand or commented in the chat. Be sure to un-mute student and call on them by name.
As you talk, create deliberate pauses to provide time for student reflection:  Take pauses. Ask students to reflect and to post their reflections in the Chat. Use their reflections to clarify misperceptions, or further explain a concept.
Use Polls: To get class thoughts/input on class topics. These can be public or private. and revealed in real-time, or later in the discussion.
Use Breakout Rooms: To create small group discussions. Results of the small group activity can then be shared by one each group in the whole class.
---
Tips & Best Practices
---
Check first with your campus for the online video conferencing platforms that are recommended, supported, required.
BlackBoard Collaborate Ultra
Zoom
WebX
Microsoft Teams
Google Meet