#OLCInnovate 2021
The Online Learning Consortium (OLC) Innovate conference was held virtually from March 15-19th, 2021.
You can find my full report here, including links, resources, notes, slides, screenshots, an key thoughts, take-aways, and actions.
Highlights include:
Research Summit: Part 2 – What Are Our Research Questions? How Do We Find Our Answers?
Key Takeaway: Research as storytelling.
---
Interview Results From Long-Term Online Instructors
Key takeaway: Instructor Study Advice Handout
---
Defining quality learning in self-paced eLearning: Practices and challenges
Key Takeaways:
Design choices are informed by the problems they are trying to address.
Moore's (1993) theory of transactional distance suggests that more structure, less dialog. and less autonomy increases distance. Typically self-paced online instruction is highly structured, there is no dialog, and there is limited learner choice. Adaptive designs can improve the structural distance by individuating instruction, but are still restrictive. The lack of autonomy can be addressed, but learners need to be capable of and trained to employ self-regulated learning strategies. Self-paced designs can provide some learner control over content, pacing and support. The missing piece in Self-paced instruction is dialog… What can we do to incorporate opportunities for learners to create shared understanding? Ongoing challenges include: accessibility, equity, learner motivation, and fidelity.
---
OLC Leadership Network Event – Part 2: Post-COVID Online Futures: Clues From CHLOE 6 
Materials/Resources/Links:
---
OLC Workshop: OSCQR Implementatio: Alexandra M. Pickett, Director, Online Teaching, SUNY Online
Presentation Slides and materials:  http://bit.ly/OLCInnovate2021OSCQR
---
Facilitating Inclusive, Equitable, And Welcoming Online Learning
Materials/Resources/Links
Key Takeaway: For the NGLC paper- INVERSE CARE LAW – HART 1971 – THOSE WHO NEED THE MOST CARE ARE LEAST ABLE TO FIND IT.
---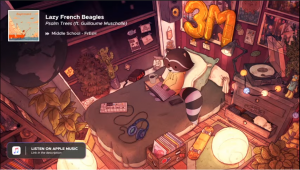 Key Takeaway: this little chill raccoon companion for music while you work:
---
Key Takeaway: Google Jamboards were used in several presentations. A cool tool and cool example of the use for online synchronous engagement and collaboration.
---
Key takeaway: Learned about how language matters and specifically about Person-First vs. Identity-First Language & Ableist words to avoid
---
Identifying Barriers to Innovate for Breakthroughs in Learning to Teach Online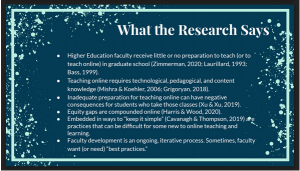 Materials/resources/links: 
---
Tips for Designing an Inclusive Online Course
For course web pages, documents, images, and videos, follow these guidelines:
Use clear, consistent layouts and organization schemes for presenting content.
Structure headings and lists—using style features built into the Learning Management System (LMS), Microsoft Word and PowerPoint (PPt), PDF, etc.— and use built-in designs/layouts (e.g., for PPt slides).
Use descriptive wording for hyperlink text (e.g., "DO-IT Knowledge Base" rather than "click here").
Avoid creating PDF documents. Post instructor-created course content within LMS content pages (i.e., in HTML) and, if a PDF is desired, link to it only as a secondary source of information.
Provide concise text descriptions of content presented within images.
Use large, bold fonts on uncluttered pages with plain backgrounds.
Use color combinations that are high contrast and can be read by those who are colorblind.
Caption videos and transcribe audio content.
Use a small number of IT tools and make sure they present content and navigation that require use of the keyboard alone and otherwise employ accessible practices​.
With respect to instructional methods,​follow these guidelines:
Assume students have a wide range of technology skills and provide options for gaining the skills needed for course participation.
Provide options for learning by presenting content in multiple ways (e.g., in a combination of text, video, audio, and/or image format).
Provide options for communicating and collaborating that are accessible to individuals with a variety of disabilities.
Provide options for demonstrating learning (e.g., different types of test items, portfolios, presentations, single-topic discussions).
Address a wide range of language skills as you write content (e.g., spell acronyms, define terms, avoid or define jargon).
Make instructions and expectations clear for activities, projects, discussion questions, and assigned reading.
Make examples and assignments relevant to learners with a wide variety of interests and backgrounds.
Offer outlines and other scaffolding tools to help students learn.
Provide adequate opportunities to practice.
Allow adequate time for activities, projects, and tests (e.g., give details of project assignments in the syllabus so that students can start working on them early).
Provide feedback on project parts and offer corrective opportunities.
---
Read the full report here, including links, resources, notes, slides, screenshots, an key thoughts, take-aways, and actions.
Tags: 2021, event, OLC, OLCInnovate, professional development