SUNY Online Teaching Ambassador 2022: Dutchess – Elizabeth Justin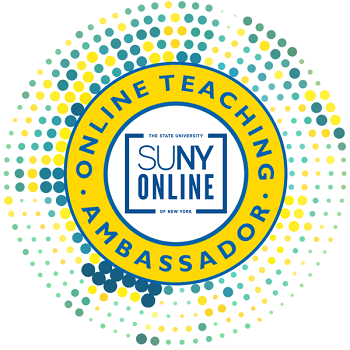 Elizabeth Justin is an Associate Professor of Biology in the Liberal Arts and Sciences Department and the Science (LAX) Program Chair in the Allied Health and Biological Sciences Department at Dutchess Community College.
I was one of the early adopters of SUNY's online initiative and started teaching online classes at Dutchess Community College over 15 years ago in Lotus Notes Platform. Online education has evolved a lot since then. I continue my educational professional development in modern teaching practices by taking Educational Technology Online Courses from the University of Wisconsin-Stout and participating in SUNY Center for Professional Development (SUNY CPD) activities. I am enthusiastic to try innovative teaching ideas or initiatives that promote student success. Since the Fall of 2020, I have integrated Lumen Waymaker Courseware (an OER combined with a high-touch personalized learning tool) to strengthen metacognition and student success in my online courses. A well-designed online course with engaging course content, innovative technology, and collaboration can be as effective as its traditional counterparts and inspire, motivate, and educate the students of the 21st century.