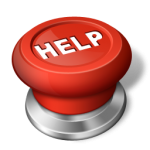 Grade Reports and Other Content
If an instructor chooses to utilize the built-in gradebook for the course, the student has the ability to run reports to see a listing of their graded assessments. Instructions for accessing grades for a particular course can be either found in the course information documents or by asking the instructor through the course mail function.
In addition to the main content items mentioned previously in this guide, many online courses include other items such as (but not limited to) study guides, interactive activities such as flash cards and online games, case studies, opportunities for small group work, glossaries, guest speakers, and webquests.